Winter Recipe:
Waffles with caramelized pears.
For 2 people, you will need:
-Two pears
-A Piece of butter Rochefort
-Powdered sugar
-Two Fresh pearl sugar waffles
-Liquid caramel
-In Whipped cream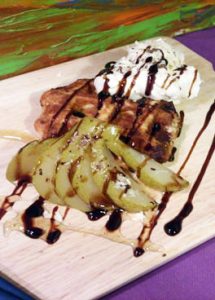 How to proceed:
-Éplucher Pears, cut them into strips.
-In A nonstick skillet, melt a knob of butter and sauté the pears into slices.
-When They are well browned, sprinkle with powdered sugar.
-Let Monitoring and caramelize, stirring (Once caramelized, remove from heat).
-Place 2 fresh pearl sugar waffles previously warmed on 2 plates.
-Place pear slices caramelized on the periphery of the wafer.
-Then Make liquid caramel and son on the cake on the plate
-To Finish, make a whipped cream rosette on the edge of the wafer.
-The Cookies are ready to eat.